Aleksander Slominski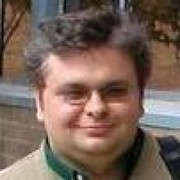 contact information Research Staff Member at Thomas J. Watson Research Center, Yorktown Heights, NY, US
aslom-()-us.ibm.com
I am a Research Staff Member in the Serverless Group in Cloud Platform, Cognitive Systems And Services department at the IBM T.J. Watson Research Center.
I am using AI and serverless to create delightful experience for business users in business applications and workflows.
I am interested in applying emerging technologies (such as blockchain) to build next-generation of business applications that are cloud-native.
I am co-organizing International Workshop on Serverless Computing (WoSC) to bring together researchers and practitioners to discuss their experiences and thoughts on future directions, talk slides are linked from: https://www.serverlesscomputing.org/workshops/
Previously I worked on web APIs ecosystems, business process analytics (process mining, clustering, etc.) and cloud-native service composition.
You can find a list of publications at Google Scholar and DBLP pages.
Updated 2018-10